Kick Stand Plates - Luggage Extension Plate

MOTORCYCLE STAINLESS STEEL KICK STAND PAD


Protect Your Investment! Cool Stainless Steel Kickstand Plate Will Hold Your Bike Steady On Soft Blacktop and Gravel.
*Made in Minnesota from type 304 14 Gauge Stainless Steel.
* Approx 6.5" wide x 7" Tall.
$17.99 plus $5.00 S/H



Stainless Steel Pistol
All Kickstand Plates are $17.00 Plus $5.00 Shipping



Our Stainless Steel laser cut kickstand coaster pad-plate will protect your motorcycle from sinking and then tipping over in a parking area made of soft
asphalt, gravel or sand. The Higley Metals kickstand coaster plate-pad is built from 14 gauge type 304 Stainless Steel.We have lots of cool laser cut characters to choose from.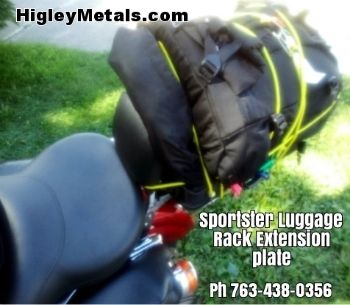 motor cycle luggage rack extension plate This is not rocket science...I make a nice looking funcitional aluminum extension plate for Harley Davidson Sporster. It works great and it's cheap! It fits the Cobra brand of rack also.
It goes on fast and off fast so you do not have to look at it once your at your destination.
$60.00 Plus Shipping
GRASS/MUD ROCKS/STONES SAND /DIRT/ASPHALT
Works with all bikes. Harley Davidson,Victory,Indian,Honda,Yamaha,Triumph


DO NOT FORGET TO ADD SHIPPING
IN DROP DOWN MENU OR ITEM WILL NOT SHIP!

HANGING OR STANDING MC SILHOUETTE
$99.00 MN PICKUP ONLY
Order By Mail
Personal Checks-Money Orders
Enter Qty-Style .
Total . Mn Resident Add 6.875 Sales Tax
Mail To
Higley Metals LLC
Box 520
Rogers,Mn 55374